From this system...

viewtopic.php?f=6&t=142

...gone are the Vandersteen 5As and all-three McCormack poweramps.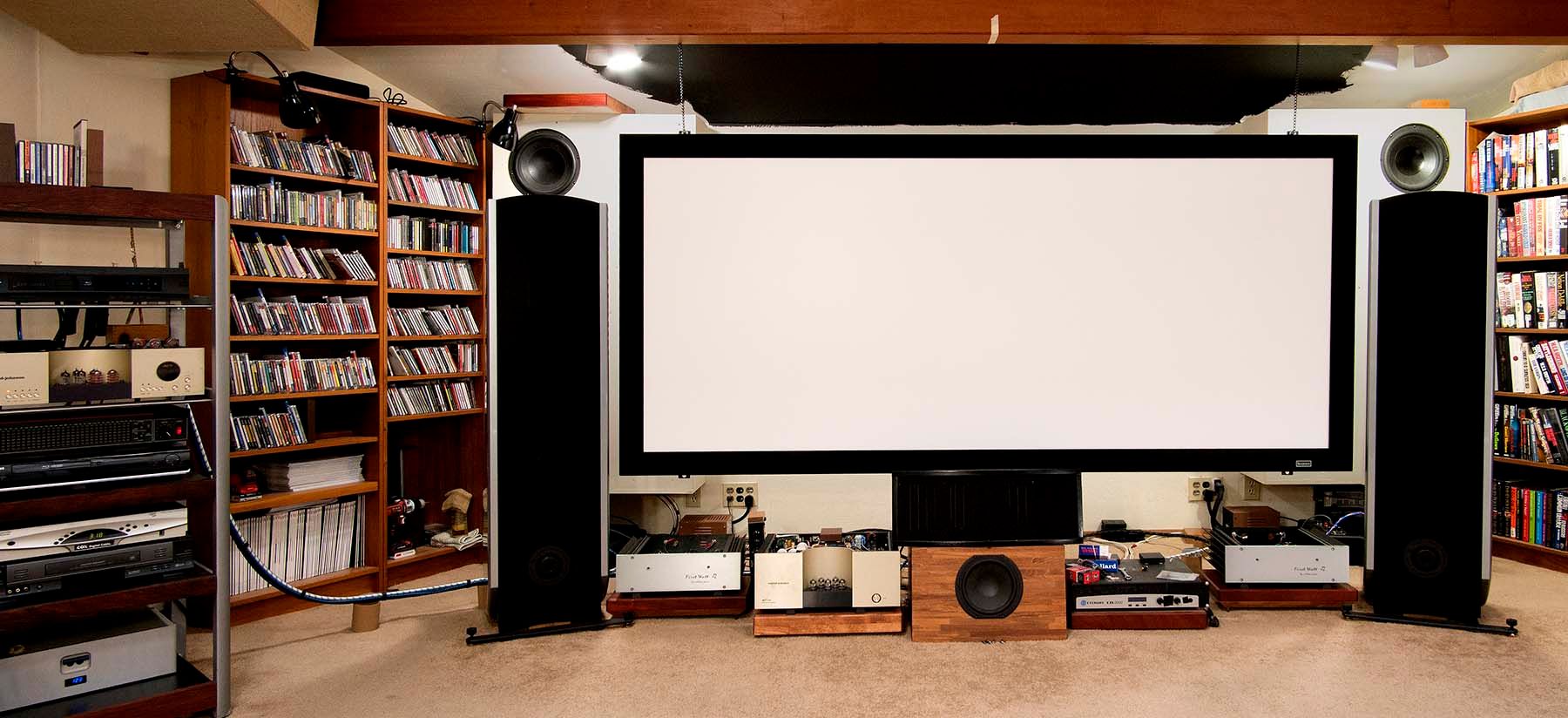 Speakers are Serenity Acoustics Super-7s (all-dipole hybrid mag-planars with dual-12"-cone woofers, 97dB sensitivity, bass separately amped).
http://serenityacoustics.com/products/thesuper7.html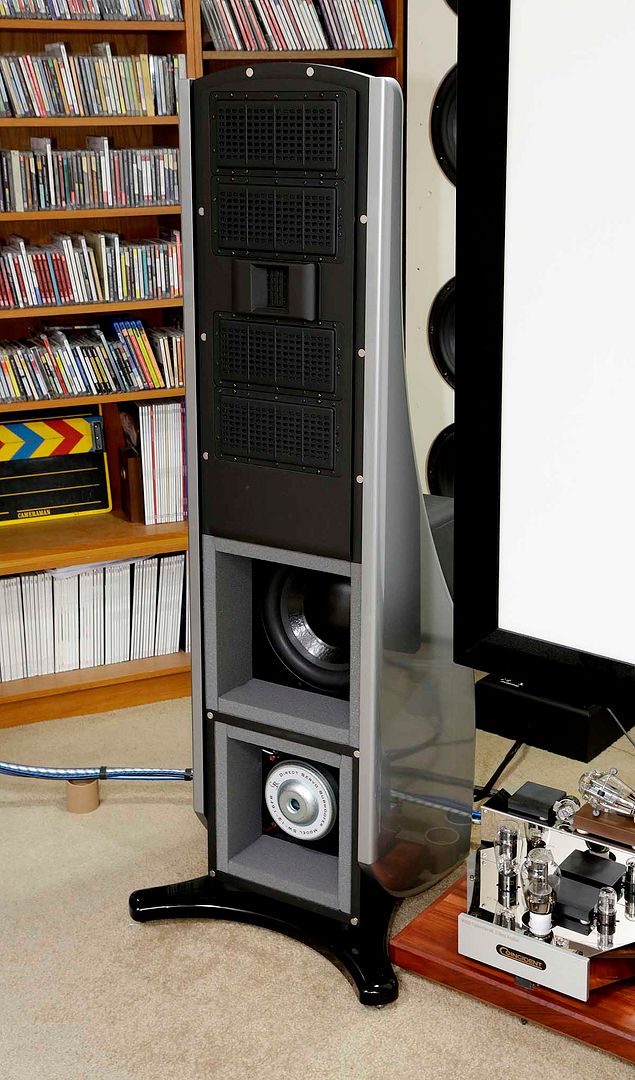 Main poweramps are First Watt J2s (30WPC into 8, 15WPC into 4, full Class-A, ALL J-FET devices)...
http://www.firstwatt.com/j2.html
...with each of the 2 channels wired in parallel for 30 Watts into 8 and 60 into 4. I've added some powersupply bypass caps--highest-quality BlackGate type-FKs and SoniCap Platinums (Teflon-alloy-film)--as close to the output transistors as possible. These low-power amps are feasible only because of the speakers' high, 97dB sensitivity.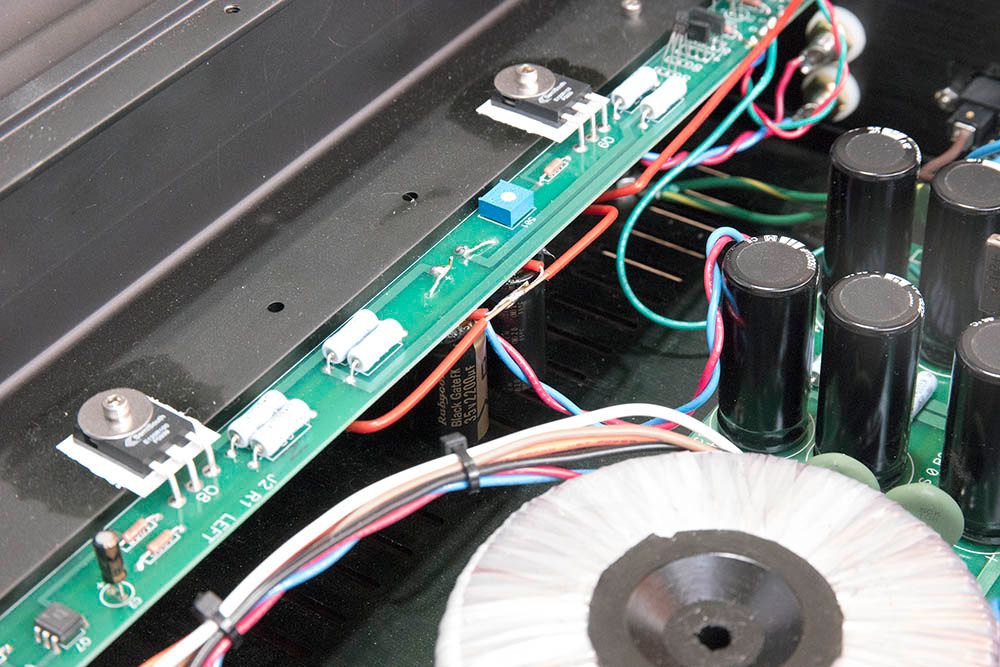 (The BlackGates are visible hanging from the board; the Platinums are farther 'back' and are not visible.)
This combination is sounding more and more like the best combination of amp and speaker I've ever had, and I haven't improved anything in the speakers yet!

The centerchannel speaker is an old, much-improved Eminent Technology ET12 with a DIY bassbox under it…literally and acoustically. The bassbox is low-pass filtered by an old Dahlquist LP-1…


Each half of the CC system is driven by a 150-Watt channel of the new-to-me conrad-johnson MET150 5-channel hybrid poweramp. Because the bassbox is separately filtered and amplified, I can turn the bass level up and down to get the frequency balance I want--down if the sound is too thick and up if it's too thin. I've never had a CC system that sounds as good as this one. I had been looking for an MET150 for almost a year; this amp is QUITE-great-sounding (and complicated!) and well worth the wait. Two channels of this amp drive the surround speakers.

This nonsummer I'll be replacing the rectifiers and PS caps in the J2s with much-better-sounding parts and replacing some caps and chokes in the Super-7s. My current project is redoing powercables, etc., to drive ALL the equipment in my system from one powerconditioner. I have some best-I-can-buy cable and ends (Neotec and Furutech, respectively) coming from Sonic Craft to make long powercables to feed the J2s, and I'll be building an

uber

-extensioncord to drive the S-7 bass amps and the Crown amp for the SuperSubs. ALL this electrical stuff will be driven initially by my Audience aR12 (Imp.) p-con in the bottom-left of the equipment rack. If the system then sounds as quiet as I hope it will be--the goal being the elimination of any possibility of groundloops no matter how 'quiet'--I'll then buy a high-current Equi-Tech balanced-power p-con and sell the four p-cons now in my system.
* I tried a couple SET monoamps...WAVAC 805s and Coincident Frankenstein IIs...but got tired of playing with vacuumtubed-output-stage poweramps.